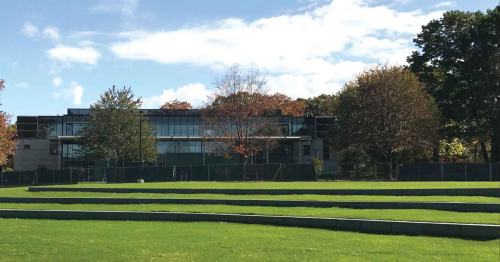 The Michael and Gwen Calabro Delfino '47 Amphitheatre
The Michael and Gwen Calabro Delfino '47 Amphitheatre, located next to Marywood's world-class Learning Commons, features an expanded, natural tiered lawn, flanked by the Art, Architecture, and Science Centers. The Calabro-Delfino Amphitheatre is a space where academics, staged art, outdoor exhibitions, and recreation will thrive, enhancing Marywood's continuing commitment to provide the community with an array of cultural
events and educational opportunities.
The amphitheatre also features The Seekers, a sculpture grouping created by alumna, Professor Emerita, and Former Chair of the Art Department Sister Cor Immaculatum Heffernan '54. The Seekers represent the power of information technology, social interaction, and cross-disciplinary learning to transmit the wisdom of the past, to assimilate knowledge of the present, and to encourage creative achievement in the future.
Reserve your Seat at the Amphitheatre!
Consider a gift today of a personalized and commemorative seat for yourself, a loved one, a special IHM sister, a favorite professor, your graduating class or someone who has been a significant influence in your life. Your commemorative Amphitheatre Seat will be a lasting tribute, paving the way for a stronger, better future for Marywood students.
Limited seats are available.