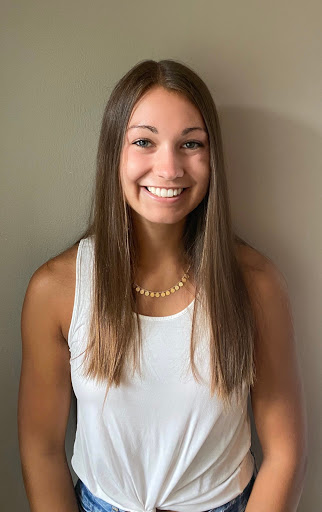 Makenzie Reinhard '22
The desire to help people always spoke to Makenzie Reinhard '22. She is a communication sciences and disorders (CSD) student at Marywood.
Makenzie knew her heart was set on CSD and once she learned about Marywood, she was sold. "Marywood's CSD program is incredible. It is accredited and ranked one of the highest in the United States," said Reinhard.
Besides the academic prestige offered by the CSD program, Makenzie noticed something nearly universally felt by everyone who attends Marywood- the university's commitment to making sure each and every student is given the opportunity to succeed academically and personally.
"Marywood also gives its students the opportunity to not be 'just another number.' The small faculty to student ratio is something many great universities simply do not offer."
One other aspect of Makenzie finding her way to Marywood is one every student faces - finances. The choice to attend college is one that comes with financial obligations. Makenzie says Marywood gave her a path to achieve everything she wanted not only academically, but in every possible way.
Makenzie receives part of her financial aid in the form of a Maxis-Gillet Service Award. Maxis-Gillet Service Scholars are expected to participate in weekly service hours and to assume a leadership role in community service activities coordinated through the Campus Ministry/Community Service Office. This is a prestigious honor as only 20 students receive this annually.
"Financial aid was the deciding factor in my college decision because I knew I was making a choice that was good for my education, but also my future," says Reinhard.
Makenzie wants to return the favor for the help and kindness shown towards her at Marywood. She is committed to giving in several ways.
"I know how much (financial aid) means, and it can be the deciding factor if a student attends college or not. I will give as much as I can after graduation whether it be my time, completing service, or through donations. I would love to remain as involved as possible to continue giving back to the Marywood community and work to make the university the best it can be. There are many platforms and people to support and encourage positive change."
Makenzie knows she has had help from others in achieving the great things she has accomplished. Her activity on campus has led her to discover something she now wishes to pass on to future Pacers.
"Ask for help: There are so many people fully willing and able to help you succeed."
Not only was Marywood the right fit for Makenzie, but Makenzie was the right fit for Marywood as well. She has gone on to accomplish some amazing things while on Marywood's campus. A Maxis-Gillet Scholar, Makenzie lists some of her greatest accomplishments on campus as making the Dean's List each semester, tutoring in the writing center, serving as Kidstuff Registration Chair, helping coordinate Thanksgiving Adopt-a-Family, serving as a Youth Ministry Co-Leader, and serving as a Big Friends Little Friends Team Leader. She is also part of various clubs and organizations including the Student Alumni Association, Student Government Association, Volunteers in Action, Speech and Hearing Club, Love Your Melon, and Zeta Phi Delta.
Inspired by her volunteering experience at the NativityMiguel school and her passion for service, after she graduates, she looks forward to working in a school district as a Speech-Language Pathologist. Makenzie truly enjoys working with children and would love to help them improve their language skills and self-confidence.
Makenzie is thankful for the resources Marywood has provided during the COVID-19 pandemic to help her adapt to the current environment. She is especially grateful for the care, understanding, and individual attention she has received from members of the Marywood family during this challenging time.
Makenzie still has another year left at Marywood to accomplish even more amazing things, and she intends to do just that during this year and beyond.