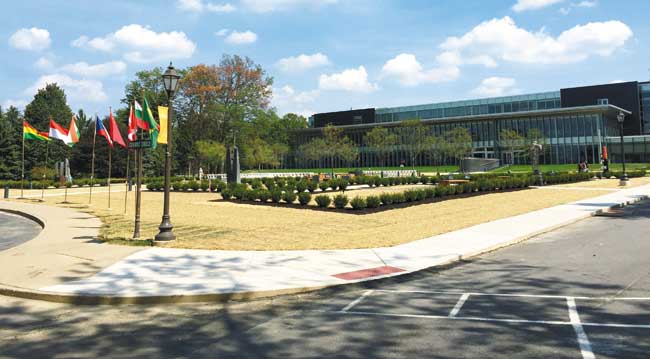 the Intellectual & Social Heart of Campus
With the Learning Commons, the library takes on a new form—a 21st Century library that focuses on actively empowering the learner. It is a scholars' gathering place, where students from all disciplines converge, collaborate, and expand their horizons ever further.

As the Intellectual and Social Heart of campus, the Learning Commons puts knowledge creation at the fore of the educational experience. Students develop patterns of discovery and achievement that last a lifetime, with abundant opportunities to discern what learning styles and environments work best for them.

The use of flexible and more open physical spaces, new ways of using technology for accessing resources, and the expertise of skilled specialists, such as technologists and digital media professionals, turn what was once the familiar library into an environment infused with creative energy and engaged learning. The impressive physical design of the Learning Commons also ensures adaptability to future advances in teaching and learning.
"Marywood University has always been a forward-looking, forward thinking institution. Our second century is beginning with the same spirit of hope and promise as the first. We are still educating minds and hearts to change the world. We are still inspired by the promise and potential of those who come to Marywood to shape lives of meaning and impact. We are ready and eager to utilize the best resources possible to provide transformative education to new generations of students."

Sister Anne Munley, IHM, President
"We want to help students do better work and get excited about the work they do. Marywood is doing its part to shape the whole person. Simply put, the new Learning Commons allows us to do everything we do now, better, while providing the space, technology, and resources for the librarians, library staff, and others to provide services to students and faculty that are not available now."

David G. Schappert, M.L.S., Library Director