Online: Make a gift through our secure online giving site.
PHONE: Call 570-348-6238
MAIL: Send your check (payable to Marywood University) or credit card information to: University Advancement: 2300 Adams Ave, Scranton, PA 18509
MONTHLY GIVING: The most convenient way to help Marywood students. This easy method enables you to choose the amount you want to give and we simply deduct it from your bank account or charge your credit card each month. Either call 570-348-6238 or email development@marywood.edu to get the process started.
Participation in annual giving is important, and as a young alumnus you have the chance to make a difference. Your annual gift—joined with the power of other G.O.L.D. alumni—will help set the foundation for Marywood's second century.
Class Ranking

CONGRATULATIONS!!!


1st Place: Class of 2006

---

2. Class of 2014
5. Class of 2013
8. Class of 2005
11. Class of 2008
3. Class of 2004
6. Class of 2009
9. Class of 2012
4. Class of 2011
7. Class of 2007
10. Class of 2010
Become an Important Part of Our Second Century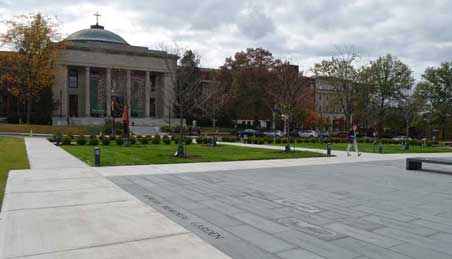 As a G.O.L.D. alumnus, you have the unique opportunity to become part of our Learning Commons Project. Each G.O.L.D. Class (2004-2013) has the opportunity to leave their mark on the new intellectual and social heart of the University with a gift equaling your class year toward a class paver. These granite pavers will be unique to each class and will bear a special message from the class. Your gift, along with gifts from your classmates will ensure your class has the chance to be represented in Marywood's biggest project in its history. Make a class gift toward your paver today!
DID YOU KNOW?
The Alumni Participation Rate is a factor in Marywood's college ranking, which, in part, determines the strength of your degree.
Gifts to the Marywood Scholarship Fund help support student scholarships.
99% of our student body receives financial assistance.
Your support, in any amount, counts toward Marywood's success.
Your gift each year helps to create opportunities and meet emerging needs across the university.
Marywood will be celebrating its Centennial in 2015. Now is a perfect time to give back to your alma mater.