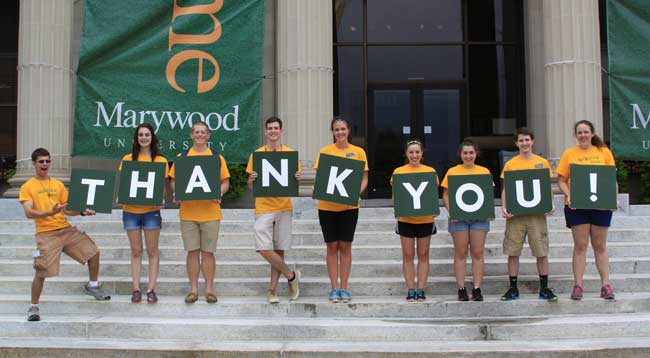 First Giving Day = Success
On September 8, 2015, as the entire Marywood University community was celebrating the Centennial, the campus also launched its first designated Giving Day, a 24-hour "Day of Giving" campaign designed to encourage investment in Marywood students and demonstrate united support. The initial goal was 100 donations, with gifts of any size counting toward the collective impact of the day. The campaign, primarily shared via social media with the hashtag #100marywoodways, was a great success.

The 100-gift goal was surpassed by more than three times that amount—335 donors to be exact. Donations of every size combined to raise more than $37,000 in support of the University. The 24-hour day of giving also provided a great opportunity for classes to join forces and give back to their alma mater. The University saw participation from the Class of 1944 through the Class of 2015. The Class of 1967 accounted for the largest total with 18 gifts. Thank you, everyone for making Marywood's Giving Day such a great success!