See all News
Laura Niederer's Key to Success: Embrace Change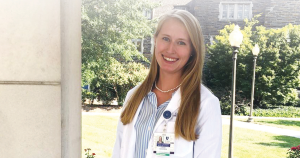 November 20, 2018
Laura Niederer '18 knew she wanted to be a registered dietitian since high school, and she chose Marywood University to discover her passions and realize her purpose. She told an audience of student scholars and benefactors at the 2018 Scholarship Luncheon about the twists and turns in her journey, but noted that, even as her priorities changed, her focus never shifted from her ultimate goal—becoming a dietitian.
Laura played for the field hockey team, then left the squad to delve deeper into her academic and other extra-curricular interests. She adjusted her academic plan, including her decision to decline applying to the Coordinated Program in Nutrition, which would have combined her academic and internship goals. Laura decided instead that separating an internship from her academic program was the right decision for her. She stepped forward as a leader to serve as President of three organizations: Marywood's Student Academy of Nutrition and Dietetics, Marywood GetFruved, and the Honors Program Club. The freedom to chart her own course led Laura to pursue her love for research and public health. She interned at Duke University Hospital in Durham, N.C., and, ultimately, earned her Bachelor of Science degree in Nutrition with a Citation in Honors from Marywood. The key to Laura's success has been her ability to embrace change.
Laura's Message: "Let yourself develop, and let Marywood help you do so."
To Donors: "Thank you. You have not only supported my ability to study at a great University that has helped me realize my fullest potential and discover my best self, but you are constantly supporting countless others to do so too."
To Students: "I want you to sign up and quit and persevere and pursue a dream and change it and go back to it and change it again, because that is life! Change is inevitable, please embrace it and develop yourself along with it…remember that Marywood will always open doors for you. So please…walk through them!"
At the Scholarship Luncheon, several new endowed and annual scholarships were recognized:
Endowed Scholarships:
The Marywood University Class of 1961/Newcombe Foundation Endowed Scholarship

, established by members of the

Class of 1961

to assist full-time or part-time mature undergraduate students, who are 25 years old or older and who demonstrate financial need.

The Class of 1967 Music Graduates' Scholarship

, established by

Valerie Rott Garofalo '67

,

Kathleen Bride '67

, and

Dorothy Brelish Magnotta '67

, to provide financial aid to full-time undergraduate students majoring in music.

The Dorothy Brelish '67 Magnotta and Albert Magnotta Scholarship

, established by

Albert and Dorothy Brelish Magnotta '67,

to provide financial assistance to a full-time undergraduate student from the North Pocono School District, with preference given to those whose primary study is in the Music, Architecture, Nursing, or Physician Assistant programs.

The Germaine O'Neil '33 Endowed Scholarship

, established by

Mary O'Neil Dunkerly '63

, to provide support to full time undergraduate students who demonstrate academic achievement and financial need, with preference to students majoring in Education.
Annual Scholarships:
Mother Maria Annual Scholarship,

established by the

Sisters of IHM, Scranton,

to honor and recognize the extraordinary faith and courage of The Venerable Mother Maria Kaupas, SSC, Foundress of the Sisters of St. Casimir and a Venerable Servant of God, and to support the educational pursuits of students from Villa Joseph Marie High School, Holland, Pennsylvania, who attend Marywood.
The Donald J. and Margaret M. Jones Scholarship in Honor of Angela Menichello,

established through the estate of

Margaret Menichello Jones '46

, to provide scholarship support to deserving undergraduate and graduate students enrolled at Marywood

University.
Share Your Scholarship Story: www.marywood.edu/scholarshipimpact
See all News