See all News
Celebrating the Class of 2020 at Virtual Commencement Ceremony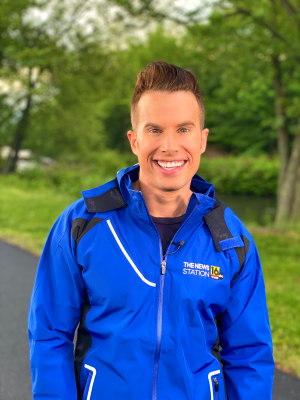 August 05, 2020
Marywood University will celebrate its Class of 2020 at a Virtual Commencement Ceremony on August 15, 2020, at 1 p.m. Newswatch 16's Ryan Leckey, Ph.D., a recent doctoral graduate and alumnus of Marywood University, is the Commencement speaker at this year's ceremony.
Dr. Leckey will be honored at Marywood University's 102nd Commencement Ceremony for his award-winning creativity and accomplishments in broadcast and digital media and for his outstanding fundraising endeavors on behalf of children and adults with disabilities.
Known for his never-ending energy and innovative media contributions, Dr. Leckey has been a morning show television personality for two decades, focusing on topics such as health and fitness and "news you can use" for a wide audience, all jam packed with his enthusiastic personality. He is a five-time Mid-Atlantic Region Emmy Nominee, a three-time Pennsylvania Association of Broadcasters award recipient, and was named "Best Local TV Personality" by Electric City Magazine for several years. His other awards and accolades include being named a "Hometown Hero" by the Greater Scranton Chamber of Commerce and "Outstanding Young Pennsylvanian" by the Commonwealth Jaycees organization for his dedication to so many charitable causes.
Dr. Leckey is best known in Pennsylvania for creating non-traditional television and for engaging the community through his morning show segments, called Leckey Live, which airs weekdays on WNEP-TV, one of America's highest-rated ABC television stations. A respected social media influencer, he dominates more than 80 percent of the social media market in Northeastern and Central Pennsylvania. Between his on-air and online content, Dr. Leckey currently reaches more than a million people each week. In addition, he leads many special project initiatives at regional corporations and institutions.
He brings that same energetic enthusiasm to the classroom. Dr. Leckey, who earned his Ph.D. in Strategic Leadership and Administrative Studies from Marywood University this year, taught media-related courses at Marywood for five years. His expertise, as well as his dissertation focus, is social media's effects on men. Dr. Leckey holds a master's degree in communication arts, with a concentration in media management, from Marywood. He earned his undergraduate degree in communication arts with a minor in public relations and advertising from the University of Pittsburgh.
Additionally, Dr. Leckey is a force in the world of fundraising. Since 2009, he has helped raise nearly $4 million dollars to assist people with disabilities as part of the charity campaign he chairs, called "WNEP's Ryan's Run," which benefits Allied Services in Northeastern and Central Pennsylvania.
Sister Mary Persico, IHM, Ed.D., president of Marywood University said, "It is fitting that Marywood University, whose own mission of education and service is long-standing, should salute Dr. Ryan Leckey, whose life and energies have been so completely dedicated to these pursuits."
For additional information about Marywood University's 102nd Commencement Ceremony, please visit marywood.edu/commencement/.
See all News