See all News
Men's Track Win Atlantic East Conference Championship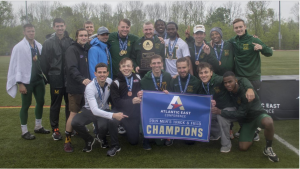 May 06, 2019
Marywood University notched the first men's track and field title in program history by winning the Atlantic East Conference Championships this weekend at Gwynedd Mercy University. The Pacers swept the men's and women's team championships in just the fifth year of the program.
Both track and field teams become the fourth and fifth Marywood programs to hoist Atlantic East Conference championship banners in the opening year of competition.

Marywood led the way with 282 points. Wesley College were runner-ups with 227.5 points, and Gwynedd Mercy University placed third with 139.5 points. Neumann University took fourth with 53, and Immaculata University rounded out the field with 42 points.

The Pacers won 11 events and broke six school records.

"For my part, I'd just like to say how proud I am of everyone for how they composed themselves during our first conference championship," coach Rob Ahrens said. "They handled the pressures of having to perform at their peak in adverse conditions, not to mention all of the end-of-semester stressors that all student-athletes deal with. Our seniors and captains did a great job of leading this talented group to achieve a program milestone of winning our first conference championship."

Sophomore David Haines (North Pocono) won four events for the Pacers. He won the 1500 with a time of 4:11.78, ahead of senior Chris Golembeski (4:12.81). Haines was the top finisher in the 5K (16:17.58) and Steeplechase (10:34.1). He finished ahead of the field in the 800 in 2:03.78.

Junior Jake Kraycer (Valley View) held down the top spot in three throwing events. He won the discus in 109 feet, 8 inches. Kraycer set the hammer throw long mark in 133 feet, 9 inches. He won the javelin with a throw of 168 feet, 7 inches.

Competing in his first conference meet, sophomore Ryan Atcavage (Western Wayne) secured top ranks in the pole vault by clearing a record-setting bar of 15 feet, 1 inch. Atcavage's pole vault was one of three records he set on the weekend. He set new bests in the 110 hurdles (15.52) and 400 hurdles (58.93), taking third place in each event.

Sophomore Jaden Rhoden earned a gold medal in a record-breaking long jump performance. Rhoden leaped 6.61 meters for the conference-best mark, ahead of Jefferson Fontaine (6.19m) in second place. Rhoden was also second place in the triple jump with a record-setting distance of 13.46 meters.

Fellow sophomore Jefferson Fontaine broke the 200 dash in a sixth place sprint. He ran in 22.65 seconds.

In a back-and-forth decathlon outing, sophomore Christian Scotti (Tunkhannock) picked up the top spot on the podium with 4,878 points. He won the 110 hurdles, pole vault, long jump, shot put and javelin portions.

Junior Nate Skrutski (Holy Cross) crossed the finish first in the 10K. He clocked in at 39:59, a second over David Haines and two seconds over Chris Golembeski.

The 1600 relay of Noah Scheck, Jerrad Bartczak, Atcavage, and Dejon Bennett-Monroe came in second place in 3:37.27.

Senior Chris Golembeski (State College Area) completed his collegiate career with a pair of third place runs. He ran the 5K in 16:21 and the 10K in 40:01.

Freshman Stephen Torres (Wallenpaupack) dropped 17 seconds in the steeplechase to finish fourth in 11:13.88.

Senior Zachary Damon set a new personal record to place second in the hammer throw with a distance of 110 feet, 11 inches. Kraycer was second in the shot put in 41 feet, 5 inches.
See all News