See all News
Fierce, Focused, First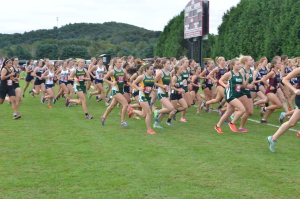 January 18, 2019
Marywood's women's cross country team earned the first-ever Atlantic East Conference Team Academic Award, officials announced Wednesday. The Pacers' runners finished the Fall 2018 semester with the highest GPA for any Atlantic East athletics program.

The women's cross country team finished the semester with a 3.68 GPA that was 0.05 higher than the second-highest average (Immaculata University women's soccer).

Most notably, Marywood women's cross country also was the only Atlantic East team to finish with both a Conference Championship and Team Academic Award. The Pacers won their 14th conference title in program history when they resoundingly won the inaugural Atlantic East Conference championships in early November.

Marywood was the only institution to finish in the top three academically across every fall sport. The field hockey, men's cross country, volleyball, and men's soccer teams were all runners-up in the academic standings. The Atlantic East champion women's soccer team was third in the conference; however, the Pacers' 3.51 GPA was the ninth-highest among all fall programs.

Across the board, Marywood provided four -- Women's Cross Country, Women's Soccer, Women's Volleyball (3.55), and Field Hockey (3.50) -- of the Top 10 GPAs in the conference.

The Team Academic Award is awarded to the institution's team that had the top GPA in its respective sport through the semester(s) it played in. The GPA is calculated for each season as follows:
Fall Season Teams (WSOC, MSOC, WVB, FH, WXC, MXC): Fall Semester Grades
Winter Season Teams (WBB, MBB, WSWIM, MSWIM): Cumulative of Fall and Spring Semester Grades
Spring Season Teams (MLAX, WLAX, BB, SB, MGOLF, MT&F, WT&F, MTEN, WTEN): Spring Semester Grades
The first semester is in the books, which means the Fall sports officially have Team Academic winners. With tremendous grades across the board for all institutions, three schools took the top spots in all six Fall sports led by Immaculata with three. Gwynedd Mercy University grabbed two, while Marywood was named the winner of one.

See all News