Marywood architecture students partnered with Indraloka Animal Sanctuary to design and build an eco-friendly building as part of a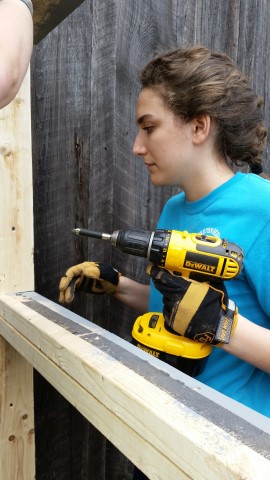 class called Farmitecture. A three-credit summer course, Farmitecture is geared toward positive social impact through design. Every year, students design and build environmentally-friendly housing for the animals at Indraloka Animal Sanctuary. In July 2014, the students built an aviary featuring a built-in water collection system and planters. The planters contained peas and herbs, not only to feed the birds, but to also repel insects that bother birds, among other attributes of the aviary.
Marywood held its 100th Opening Liturgy on September 3, 2014. The Opening Liturgy is one of the oldest, unbroken traditions at Marywood. At this Centennial Opening Liturgy, Sister Anne Munley, IHM, President, also announced a Centennial Service Challenge to the members of the Marywood community to attain 100,000 volunteer service hours, beginning that day and continuing through the end of the Centennial year. Additionally, members of the Marywood Community were invited to sign a beam designated for installation in the Learning Commons. About a month later, on October 8, this topmost girder was placed onto the steel frame of the building during a special ceremony.
Marywood celebrated its first Philanthropy Day on Thursday, November 13, 2014. Buildings throughout campus were decorated with green bows, and students had an opportunity to thank all of those who have donated to Marywood.
The Fall Convocation on Thursday, October 16, 2014, focused on the core value of service. Dr. Richard Gosser, Professor Emeritus at St. Vincent College, Latrobe, PA, and the founder and executive director of Partners in Progress, who has been conducting service trips to Haiti for 30 years, served as the keynote speaker and was awarded an honorary doctorate.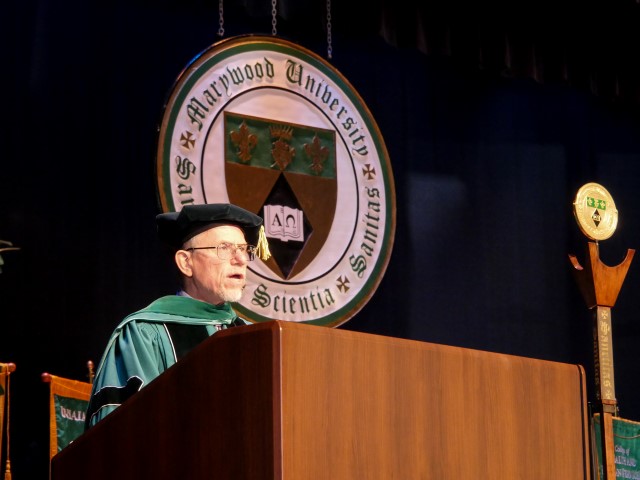 In addition to the keynote address, the 2014 Convocation featured the annual faculty awards for distinguished academic work. The awards and honorees included:
Distinction in Discipline Award: F. David Romines, D.M.A.
Distinction in Service Award: Jessica Bodzio, M.S., R.D., L.D.N.
Marywood's Nominee for CASE Professor of the Year: Kielty Turner, D.S.W.
An inaugural group of faculty members were awarded Emeritus status for rendering extraordinary service to Marywood. Emeritus status is an honorary title awarded for distinguished service to the academic community. The title may be bestowed on a faculty member who is entering permanent retirement and who has served the University and academic community with distinction. A faculty committee led Dr. Joseph Polizzi reviewed the nominations and forwarded recommendations to Dr. Alan Levine, Vice President for Academic Affairs, and to Sister Anne Munley IHM, President. Honorees were presented with a certificate to mark their attainment of Faculty Emeritus status.
They included:
Charles DeCelles, Ph.D., Professor Emeritus, Department of Religious Studies
Sister Margaret Gannon, IHM, Ph.D., Professor Emerita, Department of Social Sciences
Sister Cor Immaculatum Heffernan, IHM, M.F.A., Professor Emerita, Department of Visual Arts
John J. Lemoncelli, Ed.D., Professor Emeritus, Department of Psychology and Counseling
Francis X. Lobo, Ph.D., Professor Emeritus, Department of Science
Sister Anitra Nemotko, IHM, Ph.D., Associate Professor Emerita, Department of Science
Sister Mary Salvaterra, CSJ, Ph.D., Professor Emerita, Department of Education
Students from the School of Business and Global Innovation landed first and second place in the TecBridge Fall 2014 Entrepreneurial
Institute Business Plan Concept Competition. Frank Winger, a sophomore management major, tied for first place with his concept presentation on Spotlight Boards. Richard Manuli, a senior management major, and his team of OMB OnBoard were awarded second place. In addition, John Werner, a senior marketing major, and his team, CrashOnCampus, received an offer from a venture capitalist to further fund their concept. In the spring, Marywood's team went on to win the 2015 TecBridge Business Plan Competition. Marywood team Late Skate won the top prize of $10,000 in start-up funds and $90,000 of in-kind services. The third place finishers were Marywood's team, Last Lung. Marywood was also the winner of the Smit-Webster Founders Award for top university among the 14 colleges and universities who participated in the Northeastern Pennsylvania competition. Christopher Speicher, Ph.D., Associate Professor of Business and Entrepreneurial Director in the School of Business and Global Innovation, received the Faculty Advisor of the Year award at the ceremony. Marywood's teams were among the top four teams chosen from more than 40 entries. Late Skate, selected as the overall winner of the competition, included team members Frank Winger, Michael Neri, Jr., and Sarah Liang.
Additionally, Marywood University undergraduate students placed first at the Fleming Institute for Business Ethics Bowl Competition at DeSales University. Marywood's team was led by advisors Sarah Kenehan, Ph.D., Assistant Professor of Philosophy, and Murray Pyle, Ph.D., Assistant Professor in the School of Business and Global Innovation. These students went on to win awards at the International Business Ethics Case Competition that took place in New Orleans in May 2015. Marywood students competed against schools from Europe, Australia, China, Canada, and the United States in this annual competition. Competing in three events, Marywood's team won two and was runner-up in a third. Other collegiate teams competing included Boston College, University of Texas, University of Melbourne, Fordham University, and Marist College.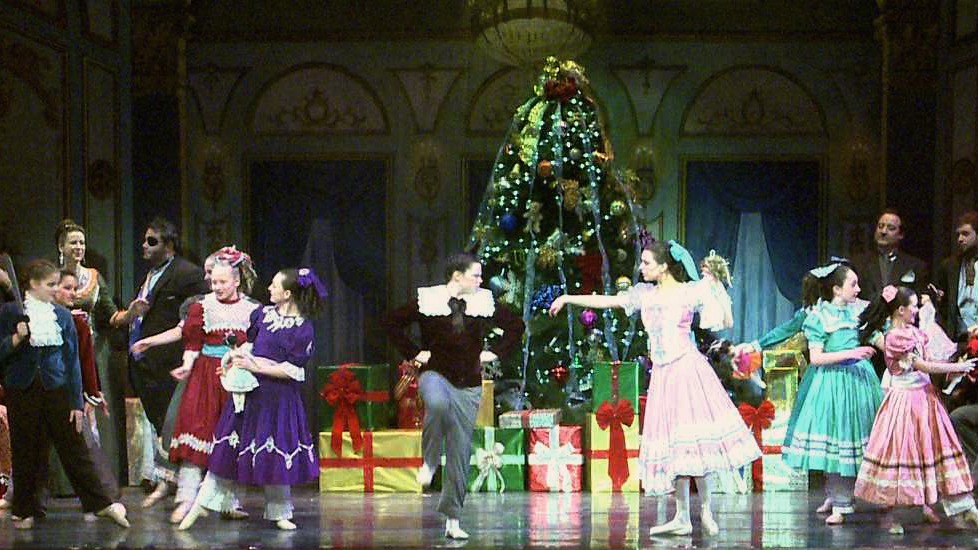 For the 39th consecutive year, Marywood University and the Ballet Theatre of Scranton presented The Nutcracker ballet on December 26-28, 2014, at 2 p.m. and 7:30 p.m. each day. Performances were held in the Sette LaVerghetta Center for the Performing Arts. This event is an annual gift to the community. The original Scranton production was first presented by the Company's founder Constance Reynolds in 1976, and continues under the direction of Joanne Arduino, Artistic Director. Since its first presentation, more than 350,000 citizens, from within a 60-mile radius, have enjoyed the production and have made it a part of their holiday tradition. Ballet Theatre of Scranton has maintained the free production through the dedication of its board, directors, and dancers and the generosity of local benefactors. Over 150 people are involved in the annual event, including professional designers, technicians, and guest artists.
Marywood University was recently recognized by myActions as one of the outstanding universities in the country for Green and Compassionate Student Activity. MyActions is a student-powered college network for sharing sustainable and socially responsible initiatives. The award honors undergraduate schools for student demonstrated leadership; momentum; and impact of green, caring, and healthy actions.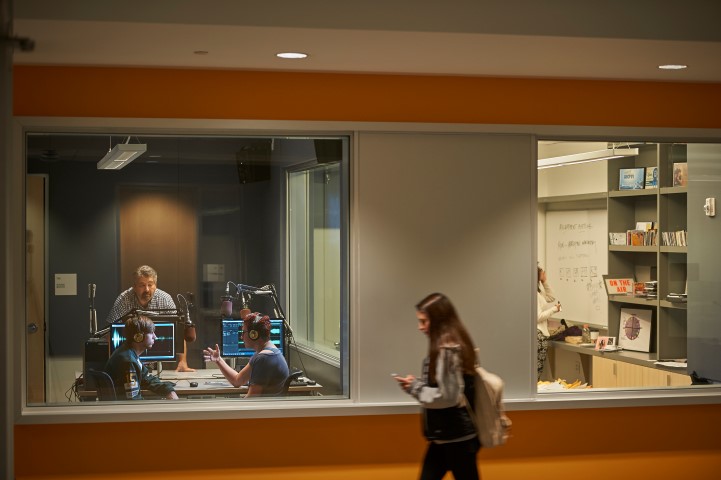 Marywood University's student-run radio station, WVMW-FM, was voted "Best College Radio Station" by Electric City magazine in 2014. WVMW-FM has won a number of awards as one of the top regional college radio stations, including "The 40 Best Little Radio Stations in the Country" by Paste magazine and Electric City's "Best College Radio Stations" for eleven years. WVMW-FM features alternative music and other music genres, including rock, jazz, and Christian, and provides students with production, on-air, and management experience. WVMW-FM is the only station in Northeast Pennsylvania with an alternative music format. Student disc jockeys also develop specialized programming, including R&B, country, and talk shows. WVMW-FM is on air 24/7 and also streams online.
Marywood University graduate and undergraduate students, along with a faculty member, received awards for their design and illustration work at the Northeast Pennsylvania American Advertising Awards. After winning at the local level, Marywood University senior graphic design students competed in and won top awards at the District II American Advertising Awards, sponsored by the American Advertising Federation (AAF). Marywood students competed against other entrants from New York City, Washington, D.C., and Baltimore. The winners included:
Nailea Meneses, gold award winner, "Hunger in America" poster; Nailea advanced to the national competition at the AAF's national conference in Las Vegas.
Ashley Kujat, silver award winner, mantis illustration
Patrick Mineo, silver award winner, "NSA is Watching You" poster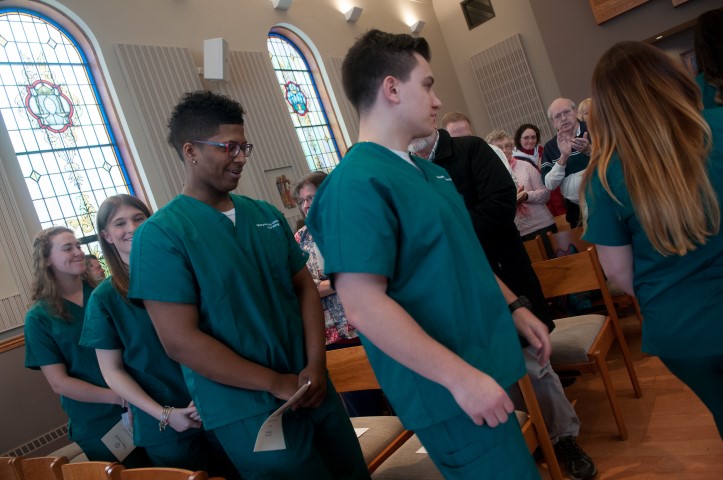 A new tradition began on campus in January 2015, as nursing students participated in a Blessing of the Hands ceremony as they prepared for clinical practice. The inaugural ceremony, held in the Marian Chapel, honored sophomore nursing students who were ready to apply their classroom studies to direct applications in the field. Junior and senior nursing students also participated in this first ceremony. Sister Anne Munley, IHM, President of Marywood University, and Barbara S. Higgins, Ph.D., APRN, FAANP, were among the faculty and administrators who welcomed and addressed nursing students, families, and friends.
A national advocate for mission-based Catholic education addressed graduates at Marywood University's Commencement on Saturday, May 16, at the Mohegan Sun Arena, Wilkes-Barre, PA. Reverend Dennis H. Holtschneider, C.M., Ed.D., 11th president of DePaul University, Chicago, IL, the nation's largest Catholic University and the largest private university in the Midwest, was the event's keynote speaker and also received an honorary doctorate during the ceremony.
The first recipients of the Sister Benedicta Berendes, IHM Memorial Fund were announced in the spring of 2015. David Gadberry, Ph.D., a lecturer in the Music, Theatre, and Dance Department, and elementary education student Kayla Seymour were the 2015 recipients of the Memorial Fund. Dr. Gadberry and Ms. Seymour traveled to Poland in the summer of 2015 for the program "Teaching English in Poland (TEIP)," which was developed by the Kosciuszko Foundation. The project, with honorary sponsorship by the Polish National Commission for UNESCO, selects and trains participants from across the United States. This is a unique cross-cultural initiative that brings American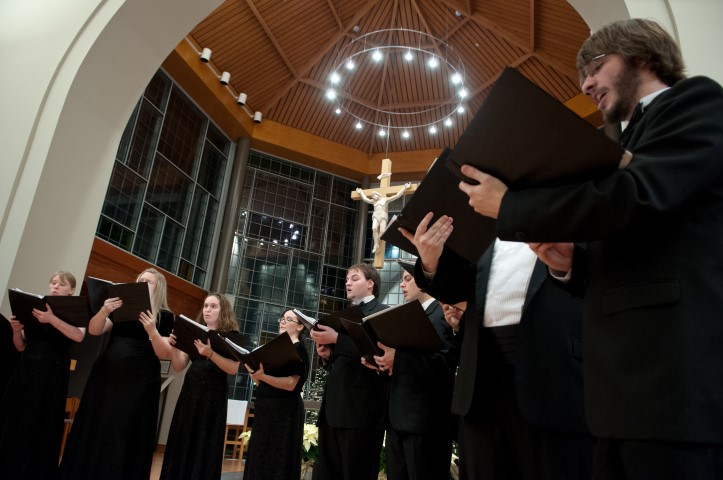 volunteers together with Polish youth, ages 7 to 16. The program introduces American life and language to Polish students, while also affording volunteers the opportunity to learn more about Poland and their hosts.
Marywood University's Chamber Singers took their songs on the road in May 2015. The tour, titled "Reincarnations," featured Samuel Barber's choral set bearing the same name, as well as works by Tye, Mealor, Elgar, Cornelius, Nystedt, and others. The tour included performances at St. Patrick's Cathedral, New York City, on May 18; Marquand Chapel, Yale University, Connecticut, on May 20; Faneuil Hall, Boston, on May 23; Arlington Street Church, Boston, on May 24; and St. Mark's Chapel, Connecticut, on May 25.
Marywood's Aphasia Group was named "Outstanding Support Group" by the National Stroke Association.The 2014 Raising Awareness in Stroke Excellence (RAISE) Award Committee announced seven winners from more than 460 nominees.
Marywood University's Student Veteran Alliance (SVA) was recently awarded Chapter of the Year for 2014 at the Student Veterans of America's 7th annual national conference, which took place in San Antonio, TX. Twelve hundred chapters were in consideration for the award. Marywood's SVA received the Chapter of the Year Award for outstanding leadership and for setting a positive example for other chapters around the country.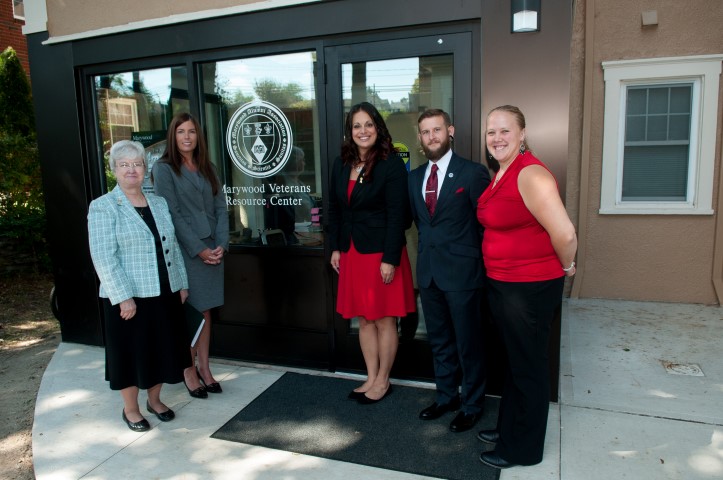 The Veterans Resource Center was dedicated on Monday, September 15, 2014. In addition to the dedication ceremony, an open house and tours of the Center, led by the Student Veteran Alliance, took place. Marywood University donated Bethany Hall to be the site of the new Veterans Resource Center (VRC). The space houses the Office of Military and Veteran Services and the R-VETS office on the first floor, along with a quiet study space and lounge. The second floor houses the Student Veteran Alliance (SVA) lounge and computer/study space. This space has a full kitchen that can be utilized by all student veterans and their dependents. Marywood's Student Veteran Alliance was awarded a grant from the National Organization, Student Veterans of America and The Home Depot Foundation, through the VetCenter Initiative (VCI) partnership. Through the VCI, funds were distributed to construct veteran-specific resource centers on campuses across the country. Marywood's Student Veteran Alliance was one of the eleven recipients of this grant. The grant funding was used to assist in renovating space for the VRC. This center builds camaraderie among current and future student veterans, which in turn assists with ensuring that these students graduate and obtain gainful employment.
Marywood's Board of Trustees announced on October 18, 2014, that it affirmed the naming of the College of Liberal Arts and Sciences in honor of Sister Anne Munley, IHM, Ph.D. The Munley College of Liberal Arts and Sciences is one of four Colleges within Marywood University. Marywood's eleventh president, Sister Anne Munley has been leading the University since 2007.
Marywood University received re-accreditations for the following academic programs in 2014-2015:
Bachelor of Science in Nursing: accredited through the year 2022 by the Accreditation Commission for Education in Nursing; also accredited through the year 2019 by the Commission on Collegiate Nursing Education (CCNE). The nursing program now holds national recognition by two accrediting bodies: CCNE and the Accreditation Commission for Education in Nursing (ACEN).
Master of Science in Speech-Language Pathology: accredited through the year 2022 by the Council on Academic Accreditation in Audiology and Speech Language Pathology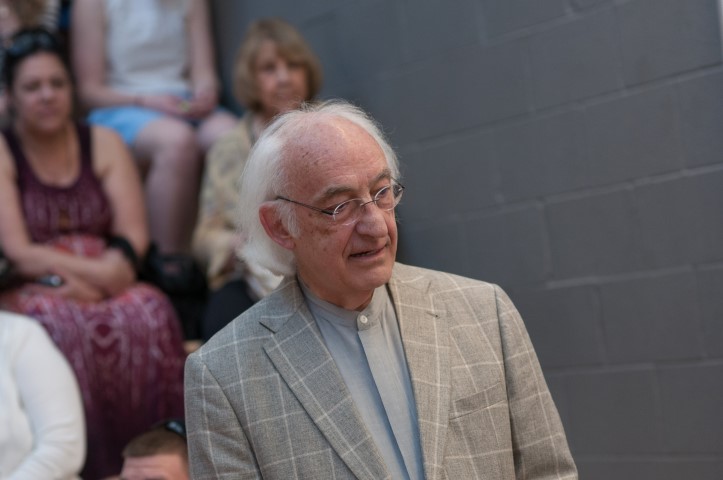 Doctor of Psychology (Psy.D.) in Clinical Psychology: accredited by the American Psychological Association (APA)
The Education Department: the Continuous Improvement Commission of the Council for Accreditation of Educator Preparation (CAEP) renewed accreditation of the Marywood University Education Department by the National Council for Accreditation of Teacher Education (NCATE).
Marywood is accredited by the Middle States Commission on Higher Education. In addition, Marywood has 15 individual academic program professional accreditations.
The builder of Marywood University's architecture program received some well-deserved recognition during the 2015 Commencement ceremony on May 16, 2015, at Mohegan Sun Arena. Gregory Keane Hunt, M.Arch., F.A.I.A., Professor and Founding Dean of the School of Architecture, recently retired, was awarded a Presidential Medal, Marywood's highest honor, during the ceremony.